Flash Introduction
Flash, like other good Expert Advisors (EAs), will help you save time. It can take hours just to find a good setup in the market to place a trade. Let Flash find those setups for you, and you decide whether or not you want to take the trades that Flash finds.
Flash is designed to enter and get out of trades as quickly as possible. Flash uses a stochastic indicator with support and resistance levels to determine the best entries for trades.
Flash is considered a trending trading software.
Flash Settings
Trade Settings

Lot_Size
Flash's "lot size" will always come preset or, by default, the smallest lot size of 0.01 per $1,000 of the account balance. It is recommended that you do research as to the lot size that you should use here. You can speak with your sponsor or other people using Flash to understand more about different experiences that people have with various settings. If you have not already, you should be connecting to the Discord channel for Flash. If you are unsure how to connect to Discord, please contact the Support Department at https://auvoriaprime.com/support.
A lot size of 0.01 per $1,000 of the account balance is a standard that people think of, but the lot size can be adjusted to reflect a lot size of 0.01 per $1,250 to be more conservative or 0.01 per $750 to be more aggressive. Remember that being more aggressive to get more profit means taking more risks and can experience more loss.
We consider it a best practice to learn to use the software with a demo account where you can adjust settings without risking your capital. When you are ready to go to a live trading account, it is suggested to start with conservative settings and adjust the settings based on your involvement with the software.
Adjustments should also be considered according to news events. This is another good reason to connect to the Flash Telegram and Discord channels. The representative for the software will drop notes that can help ensure profits.
MaxTradesEnable
With the setting "MaxTradesEnable," you can choose either false or true. If you put it on true, that means the software will take the maximum number of trades possible, and sometimes that number can even be 50 or larger.
You should consult with other Flash users to get their experience. Having a lot of trades open can be good or bad. A lot of losing trades will put your account at more risk faster than a few trades.
MaxTradesOpenPerPair
The setting "MaxTradesOpenPerPair" determines how many trades you would like the software to take per currency pair. The developer suggests you run it by default, selecting false for the setting "MaxTradesEnable" and then entering 10 for the setting "MaxTradesOpenPerPair."
Drawdown_Limit_Cash_Amount_Pair
The setting "Drawdown_Limit_Cash_Amount_Pair" basically determines how much capital you are willing to lose before Flash closes all of the trades that are taking place.
ContinueWorkingAfterSL
The settings "ContinueWorkingAfterSL" has two options: true and false. If you put "false," that means once you have reached the drawdown limit you have inserted, the software will stop trading and will not take any new trades. Once you change it to "true," the software will continue with its regular function after you have reached the drawdown limit.
Trading Time Setting
In these settings, you can choose which days you would like your software to trade and which hours of those days you would like it to trade.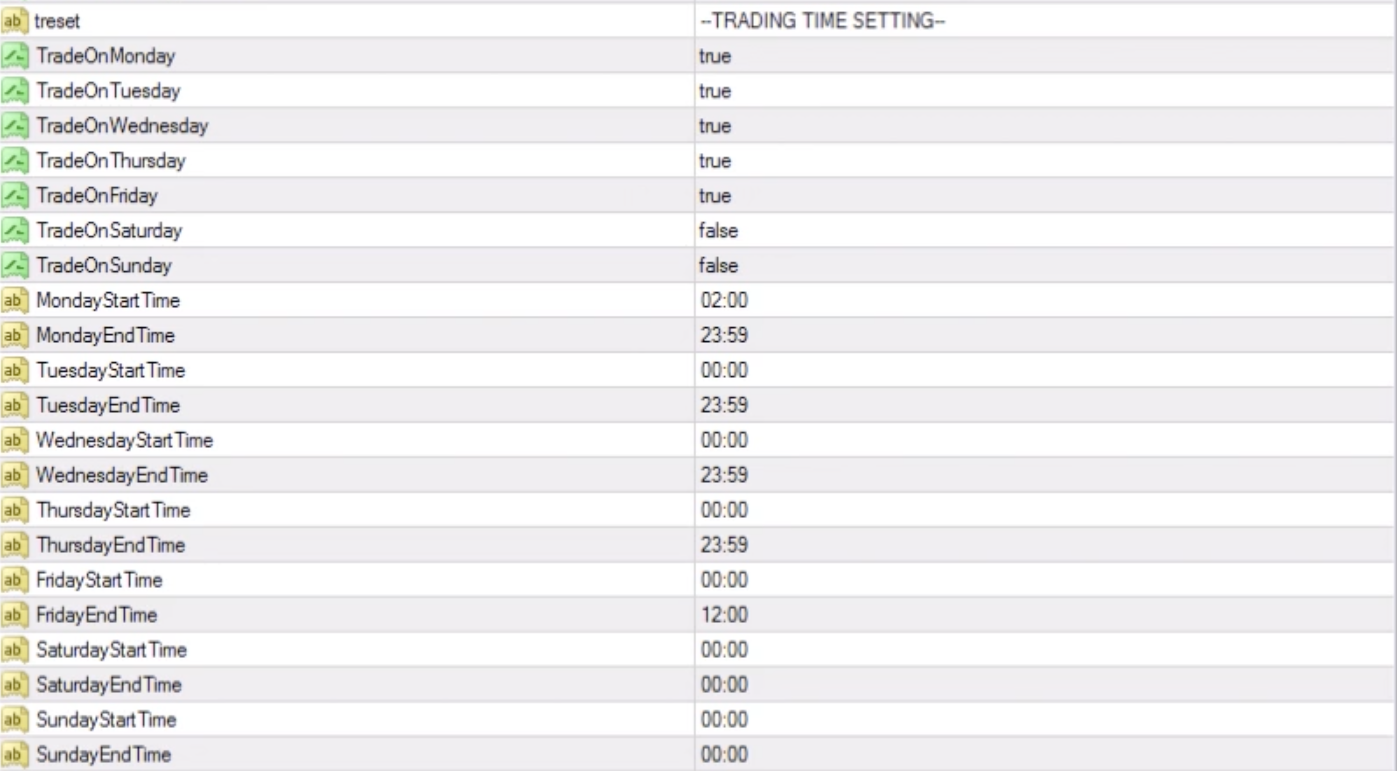 Flash Support Options
You have several support options available to you that are yours to use.
Insights Call - Once per month and when needed, Dominic is streaming live and shares updates on the previous week's trading results and sharing updates and more about his own personal use of Flash. Call details are on the Events Page. The call is hosted in AP Live; read this article to find out how to access the call live.
YouTube Channel - Recordings of the Weekly Insight calls are available on the Auvoria Prime YouTube channel, and you are

highly recommended

to watch them.
Help Desk - The Auvoria Prime Help Desk has Live Chat support, ticket support, and a large knowledge base of articles to learn from.
Send an Email to Support - support@auvoriaprime.com

- Send an email, which will be converted into a ticket and replied to asap by a customer support representative.

Telegram Channel - Join this channel to receive announcements regarding Flash

.


https://t.me/flash
Discord Group and Channel - Connect to Auvoria Prime Discord Server and get access to an announcement channel and a group of people using Flash together and sharing experiences. Visit this

support article

to learn more about connecting to Discord.