Which Broker Does Auvoria Prime Recommend Using?
When Can I Withdrawal Profits From My Broker Account?
What's a Demo Account and Why Should I Use One?
What Is a Broker?
Forex Brokers are firms that provide traders with access to a platform that allows them to buy and sell foreign currencies. Transactions in this market are always between two different currencies, so forex traders either buy or sell the particular pair they want to trade.
Which Broker Does Auvoria Prime Recommend Using?
Auvoria Prime gets this question regularly, "Which broker should I use?"
The company has sought legal counsel regarding the recommendation of brokers. According to the CFTC attorney, Auvoria Prime must acquire a series 3 license to suggest a broker. Then it would have to be a list of three brokers. Anything less than meeting these requirements makes it illegal for Auvoria Prime to recommend brokers. The company has chosen not to list any to avoid any confusion.
As a result of these legalities and the desire of Auvoria Prime to avoid any misunderstandings of the company's mission to help people be more financially literate, the company has made the official decision not to engage in suggesting brokers, and it would be a violation of policy for a customer service representative or any other staff member.
We know other companies recommend brokers, but that does not make it right, and Auvoria Prime has committed to always "do the right thing."
The best way to find a broker is to ask people in your trading communities which brokers they use. There are several factors to consider when choosing a broker; we leave this up to the individual to research.
When Can I Withdraw Profits From My Broker Account?
This decision is up to the customer.
When using a Broker, we recommend that you activate any extra security features that your broker offers; 2FA or SMS codes.
What's a Demo Account and Why Should I Use One?
Brokers typically offer users two types of accounts to trade in the forex market: 'Demo' and 'Live.' Let's look at the pros and cons of each.
Demo Account
The primary benefit of a demo account is that it is funded with 'fake' money. This is perfect for new traders to learn to mark charts and place trades to see how they do without the risk of real capital.
The demo account is also perfect for testing Expert Advisors. A user can adjust the EA's settings until they get the desired trading style they are looking for.
Auvoria Prime strongly suggests that all new traders start with a demo account.
The only cons with a demo account are that a person may take it less seriously since it is not real money. Additionally, trades in a demo account do not get placed in the real market, so there are no spreads, commissions, or other fees, making the trading results look better than they would be in the live markets.
Set up a Demo Account
Step 1

Sign into your VPS and double-click on one of the MT4 or MT5 terminals.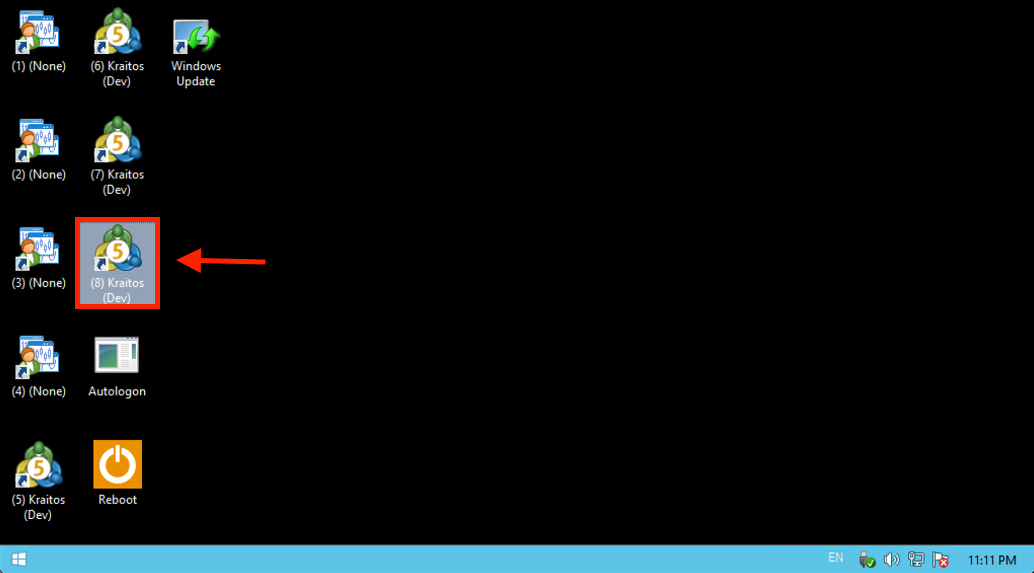 Step 2
On the left side of MT4 or MT5 look for the 'Navigator' menu item. If you don't see Navigator, go to the top 'View' menu item and click on Navigator to make it show on the left side.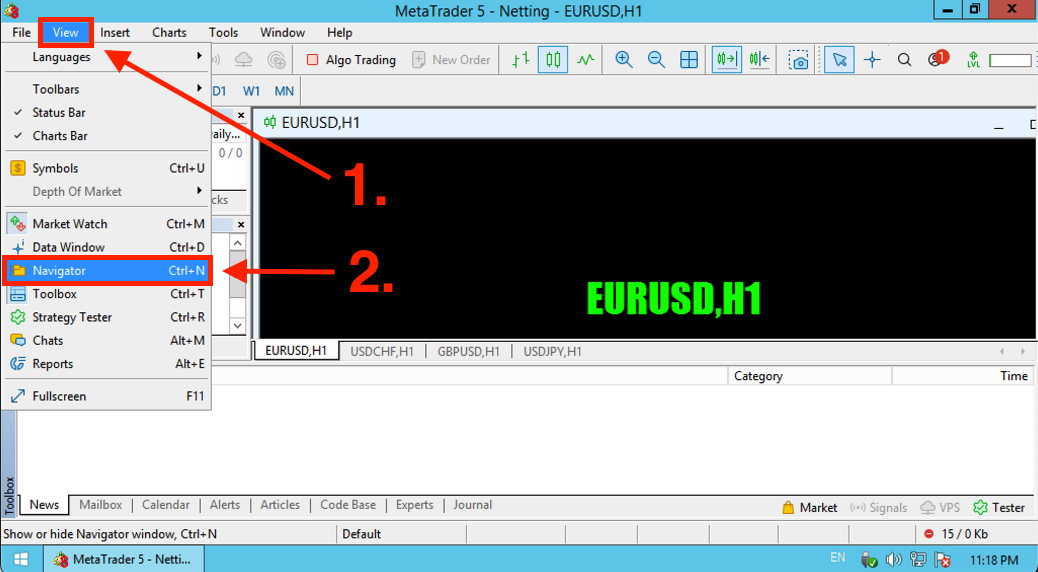 Step 3
In the Navigator toolbar, right-click on 'Accounts' and click 'Open an Account.'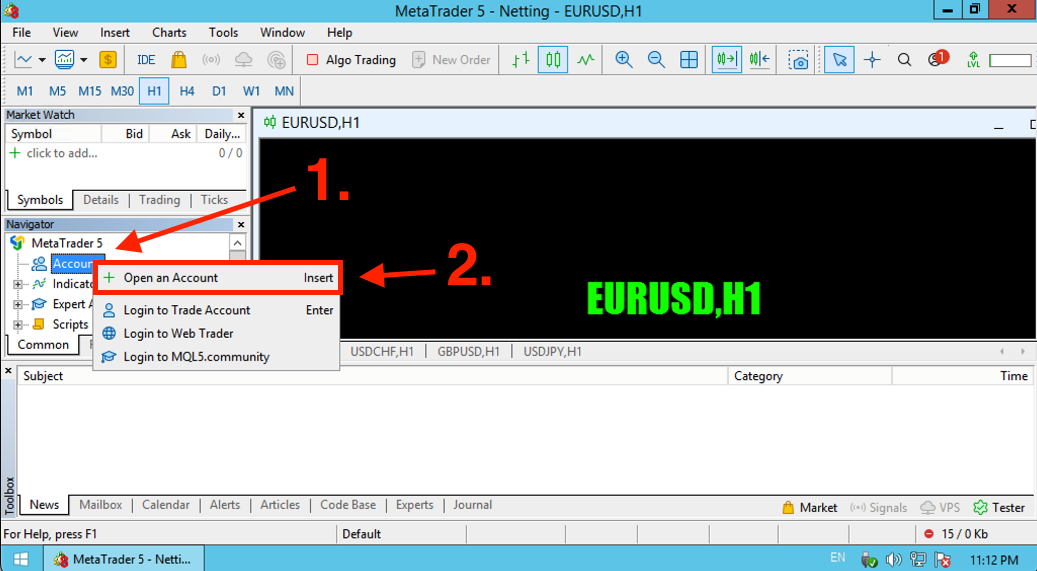 Step 4
Enter the broker into the search bar you want to create an account with. Select the broker and then click 'Next.'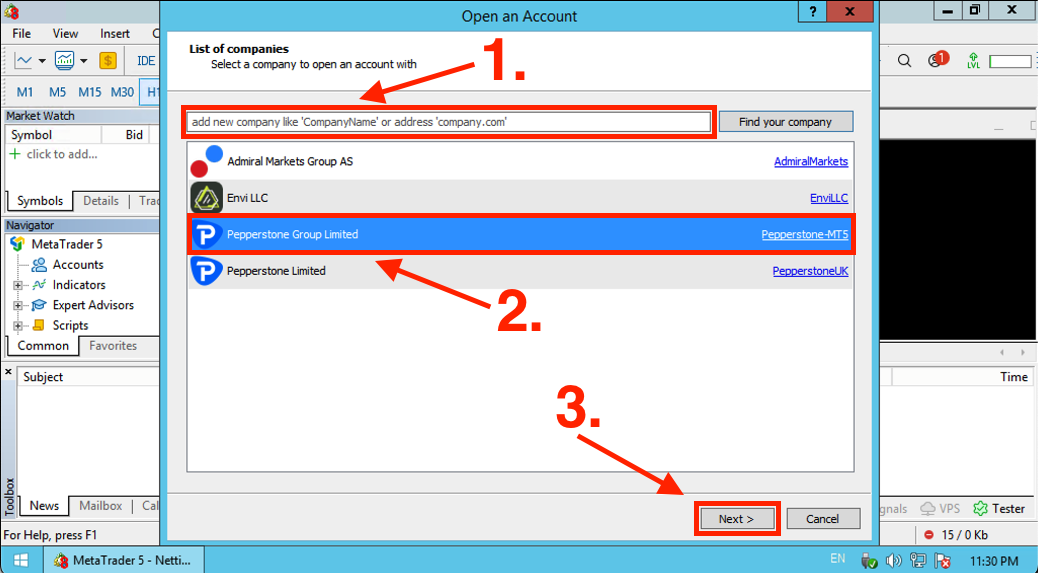 Step 5
Select the demo account option and click 'Next.'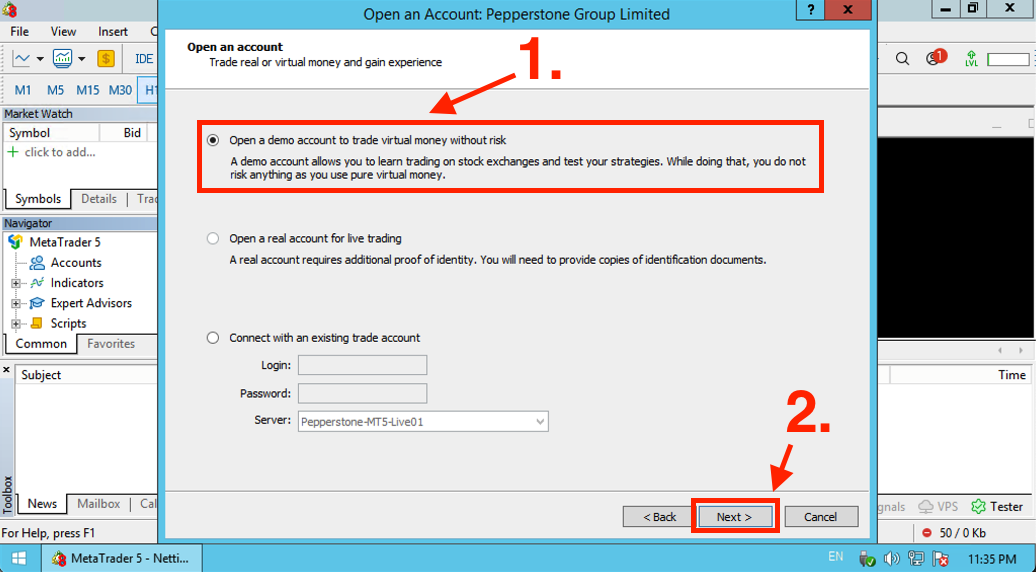 Step 6
Enter your personal info. Make sure you've selected the correct server: the demo option. Tick the 'Agree with the terms' checkbox and click 'Next.'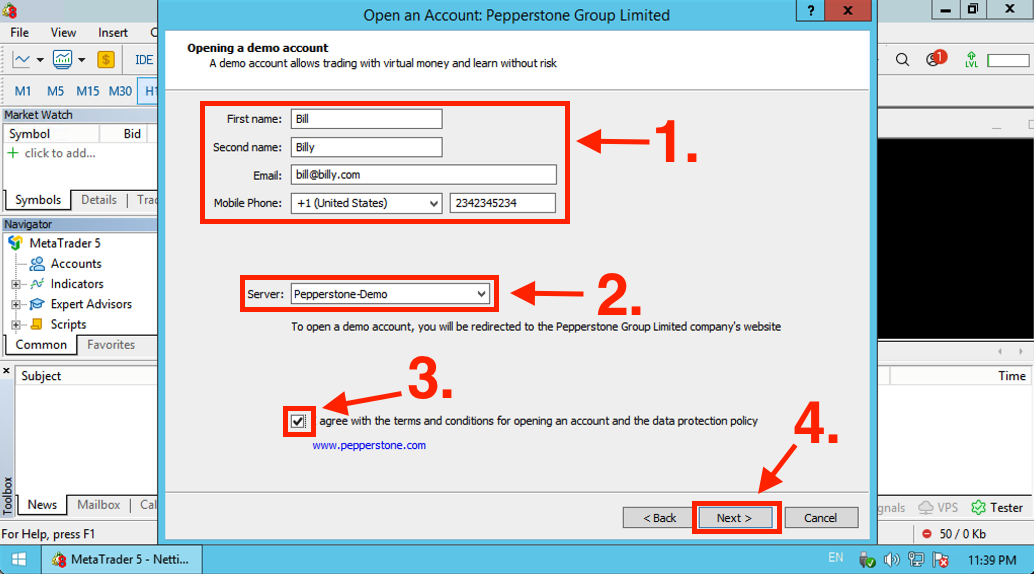 Step 7
Your demo login credentials will be displayed. Write them down. Congratulations, your demo account is ready to use!
Live Account
A live account is funded with real capital to secure real profits. It's a different psychological experience than trading with a demo account, so it's always good for a new trader to use mini pairs if available. This is often expressed in the symbol for a pair like this example: EURUSD.mini.
It's also a common practice to fund a live account with a few hundred dollars to test a new Expert Advisor strategy.
To set up a Live account, follow the same steps as a demo account except for choosing a Live account instead of a demo.
If you need a more detailed guide on How to Add your Broker account, please visit this Article.